UNSOLICITED TESTIMONIAL -- A $50 CARDBOARD BASS

I have always dearly loved the concept of "giant-killer" and here is a prime example 
of just that.

A fellow named Chris Badynee (aka Bogdon Vasquaf) in the lower part of this fair 
state of Michigan has come up with a VERY nice sounding and playing two string 
bass made using a cardboard box for the body!

I'm here to tell you that it is a REAL winner.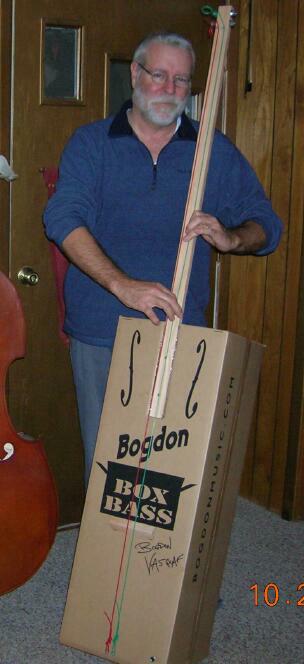 This is a picture of me with the cardboard bass.

Chris sells these as a kit for only about $50 (postage paid)---  I just bought and 
assembled one and can tell you that the instrument is truly excellent, both without and with 
amplification (a complete piezo pickup setup is supplied with the kit).

The thing uses .105" and .095" weed-whip line which impart a silky-smooth feel to 
playing. Despite having only two strings, the thing has clear access way up the neck
and the lack of four strings isn't much of a concern after an hour or so of getting 
used to it.

It compares very favorably with my commercially-made upright bass in both volume and tone.

The piezo pickup to an amplifier sounds first-rate.

I cannot remember when a fifty dollar expenditure has resulted in quite as much fun!

You can learn more about this instrument by accessing www.bogdonmusic.com

Dennis Havlena


Click here to access my web-page.