I no longer play with metal banjo strings, much preferring nylon. 
Nylon banjo strings consists of four strings of bare nylon & one 
metal-wrapped nylon string - the lowest-pitched string.

The main reason I've had to replace this wound string is that the 
metal-covering of the string is ground into each fret
repeatedly while playing and unravels way before the other four 
bare-nylon strings give up the ghost. Sometimes the winding has
unraveled after only a few weeks of playing. I have had the same 
problem with metal wrapped, METAL core strings as well. 

Here's a crude, but quite effective way to prevent unravelling & extend 
the life of the string by nearly double. 

Caution: One look at my webpage instruments and it's easy to see that I 
favor function FAR more than form. Continuing in that tradition.....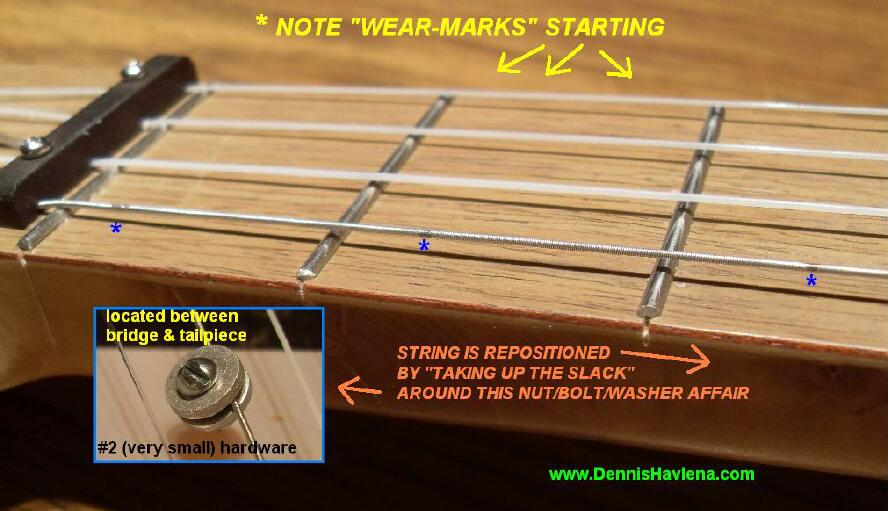 The Idea: when you see wear-marks on the string, directly above the 
frets, simple repositioning of the length of the string, so that the 
wear marks are positioned about half-way between frets & no longer 
directly over the fret, is what's needed

"Knot method": This is the crudest -- simply tie a granny-knot in the 
string between the bridge and the tailpiece. While this works, the knot 
weakens the string & it could break all the easier.

"Nut & bolt" method: This puts less strain on the string. Crude as hell 
but it works wonderfully. Use the smallest "gauge" nuts/bolts/washers
you can find - "#2" is usually sufficient.
 
I've used this trick with several different instruments. Of course it 
won't work on a classical guitar, unless it has a tailpiece instead of 
through-the-bridge type string mounting.

Dennis Havlena   Webpage at www.DennisHavlena.com

Click here to access my webpage